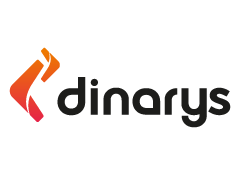 Dinarys
About

Dinarys

As a worldwide digital transformation consultant, Dinarys helps medium and large enterprise retailers and manufacturers to drive their e-commerce channels. Business value realization is what we put at the core of our practices. By approaching business and technology consistently, we deliver digital solutions that unlock the path to immersive e-commerce experiences and a reliable brand image.
Application Development Services
Our partnership with Dinarys for Application Development Services solutions was a revelation..
Their team's dedication to perfection, innovative approach, and ability to turn ideas into reality were truly impressive..
Application Development Services
Choosing Dinarys was one of the best decisions we made..
Their Application Development Services solutions have modernized our processes, making us more agile and competitive..
Their skilled team exhibited an unmatched understanding of our industry and challenges..
They not only delivered on their promises but also went the extra mile to ensure the solutions were seamlessly integrated. Their commitment to quality, innovation, and client satisfaction is evident in every step of the process.
List of
Services

Provided
Application Development Services
List of
Industries

Provided
List of
Technologies

Provided
Key
Benefits

of Working with

Dinarys
Dinarys specializes in e-commerce development, offering customized solutions with a focus on user experience and conversion optimization. They also provide ongoing support and maintenance services, and follow an agile development methodology prioritizing client feedback and user testing.
Expertise in E-commerce Development
Dinarys has extensive experience in developing e-commerce solutions for a wide range of industries. Their team of developers, designers, and business analysts work together to create a customized solution tailored to your specific business needs. With a focus on user experience and conversion optimization, Dinarys can help you increase sales and grow your online business.
read more
Comprehensive Support and Maintenance
Dinarys offers ongoing support and maintenance services to ensure that your software solution remains up-to-date and secure. Their team is available to provide technical support and assistance, troubleshoot issues, and implement updates as needed. With Dinarys, you can rest assured that your software solution is always running smoothly and efficiently.
read more
Agile Development Methodology
Dinarys follows an agile development methodology, which means that they work in short development cycles and prioritize client feedback and user testing. This ensures that the final product meets your requirements and is fully optimized for user experience. Additionally, their approach allows for flexibility and easy adaptation to changing business needs.
read more
The team is working in those
Locations

and

Time

Zones